KCRP CHAMP HANK HALL CLAIMS TRIFECTA IN INEX BANDOLERO WEST SERIES
admin
Morganton, NC (November 20th, 2019) – INEX officially announced today that, Hank Hall is the 2019 California State Bandit Bandolero Champion and The 2019 INEX Bandit Bandolero West Champion. "We are really excited for this," commented Hank's mother, Pam. "We actually have known for a while now and have had to keep it to ourselves before an official announcement could be made.."
After claiming the series title at his local home track, Kern County Raceway Park in Bakersfield, Ca, the family waited patently to hear the official word from INEX regarding the National and State titles. As the points lined up, Hank was a top the leader board most of the season. "It doesn't look like anyone can catch him," stated Ryan Ux, west coast manager for INEX, "but we have to wait until it is official from North Carolina to make such an announcement." With 23 Victories spread across 5 tracks in 3 states, Hank pulled off all 3 titles in his reach, Local, State and National.
Hank and the Hall Motorsports Team were on a mission, one that required dedication and discipline from the 11 year old. Mid-season the family packed up and moved to, North Carolina. "We would not take this from him," commented Hank's mother, Pam. "We finished what we started, and it was a journey, but one we were willing to take." The team planned Hank's itinerary well in advance and it paid off big time. Traveling from North Carolina to California and then on to Nevada, the team held on strong in dominating fashion.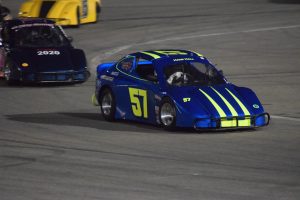 Hall, an avid off-road racer, who had been racing a Trophy Kart since the age of 5 in the, Lucas Oil Southern California Off-Road Series began running the Jr. Dwarfs for 1 season on dirt and 1 season on both dirt and asphalt, then the switch was made to the Bandolero's. For 2019 the family stayed dedicated to this year long commitment of running a full season in the INEX Bandit Bandolero's. Help and support for this well refined race team of Hall Motorsports was needed as the dirt and desert terrain was the families way of life for many years, but have found a new love for asphalt oval racing. They went All In and it paid off as this family and team celebrate a trifecta and a dominating season that saw Fourteen straight wins in two different states.
The season started with a Win on the Big Track in Las Vegas after the Pennzoil 400, a NASCAR Cup Series event. It would be Hank's first time back racing after a having a broken femur from an MX accident. The momentum the team had was incredible and Hank was driving on a rail like a High Speed Train. Hank tallied up 14 wins at the Bullring in Las Vegas, 6 Wins at his Home Track KCRP, as well as a Win at Madera Speedway and 1 at Orange Show Speedway. 23 wins out of 30 races, with four races being in his new home state of North Carolina at the BoJangles Shootout held at Charlotte Motor Speedway. "We felt like Rookies, that's for sure," commented Hank, as the team had struggles with gear and set up with little prep-time.
The transitions, Dirt to Asphalt and moving to a different state did have their challenges. "We couldn't have done this for our son without the helped we received, I really appreciate all of the support." stated Hank's father, Christian, who split the duties between the track and the North Carolina home renovations with Hank's mother Pam. They knew it was a lot to take on, but with the dogs at home and the work needing to be done, the family shared the joys of Hank's racing via Facebook LIVE and Facetime. "It was all worth it," stated Pam.
Hank expressed his appreciation to all of those involved in his racing this season. "I have to thank my mom and dad, John Vargas, Ryan Vargas, Ron Barker, Kayli Barker and JR Mcclenny for keeping my team on point and thanks to Scott Lynch for his race reports. And thank you to my sponsors for always believing in me, we did this together and I appreciate all of the support you have given me!" Hank continued, "I also want to thank all of the announcers and the track officials, and a big shot out the safety crews at these tracks, they are our first responders and we appreciate them."
Hank and the Hall Motorsports Team are planning to run the Bandolero's for the 2020 season in North Carolina and are currently working on and open for new sponsorship. The team can be contacted via social media or Hank's Official website, HankHallMotorsports.com
The Team is always in gratitude to those that support Hank's racing venture: Maxima Racing Oils @c.schell1 Sparco @chrisneuer28 Raceline Wheels Pro Eagle Race to Erase 22 FORCE Offroad @vssl and Scott-Lynch.com